artbusiness – November 10, 2007
SAN FRANCISCO ART GALLERIES OPENINGS
Modernism Gallery: Gottfried Helnwein - The Disasters of War.
This collection of the Austrian artist's work is eye-captivating both due to its quality of subject treatment and media treatment. From afar, the gigantic images look like photographs with their quality of detail and realism. However on closer inspection, fine brushstrokes become discernable, especially in several compositions of anime characters interacting with a blindfolded girl, gun in hand-- you can see the fine array of textures in her hair, her blindfold, and the background.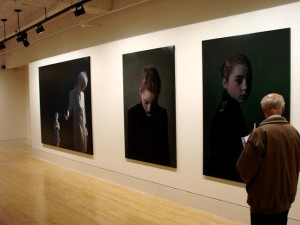 The works of Helnwein are vibrant, gut-reaction-provoking, and can both stand alone or be considered as a storyboard ensemble. The doll-like girl posing through the frames blurs the boundaries between reality and fiction, documentary and anime. The situations presented also blur the lines of a novelistic storyline which could form in the viewer's mind: Who are these characters? Why are they interacting this way? Is this the end, or merely the beginning? Uniformly dark backgrounds make time and space disappear behind these characters, leaving a void where any attempt at resolution is destined to fail.
Comment by AB: According to the literature, Gottfried Helnwein's haunting images are all about war, the brilliance being that he offers nothing for ideologues to get all partisaned about-- to either confirm or condemn their agendas-- the upshot being that no matter what anyone's stance on which war, they're inexorably compelled to confront the atrocity itself... and those who perpetrate it.
Review by Caroline Andreolle, 2007