Helnwein exhibition catalogue, Andreas Mäckler – November 30, 1995
One Man Show, Museum of Modern Art, Otaru, 1996
SELFPORTRAIT
"The reason why I took to doing self-portraits", Gottfried Helnwein said in a 1990 interview, "and why I have been presenting my own persona from the very start, lay in a kind of substitution for the self. There is nothing of an autobiographical or therapeutic nature on show. It tells you nothing about me personally. I don't mean me at all: I just use myself because I am always available as a model. All I mean to present is a human being, pure and simple." The bandaged head became a cliché that was repeatedly misunderstood. Even Mick Jagger once asked, albeit with a laugh: "Will you paint me with bandages?"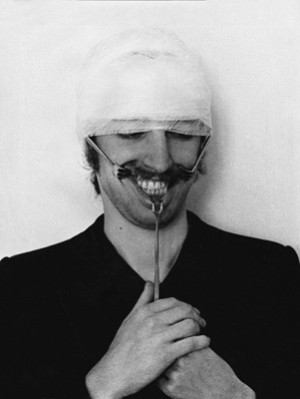 There is an interesting parallel: Humphrey Bogart with a bandaged head in the film "Dark Passage (1947)". He is waiting for a new face to evolve, as in a cocoon where a new life comes into being. But in Helnwein's case, the medical bandaging and surgical instruments are symbols and metaphors of human anonymity in mass society: the figures are mummified nobodies of the present day that seem to come straight from the operating table or from an Egyptian sarcophagus. All the horrors of this world are present in these images. They are concentrated expressions of angst. And so Helnwein's self-portraits are also representations of martyrdom in the late twentieth century, and people have recognized themselves in his images. If they had not, the acclaim that greeted them worldwide would not have been possible.
Helnwein's famous 1981 self-portrait has a further link, to the work of the Austrian sculptor Franz Xaver Messerschmidt (1736-1783), one of the most sought-after portrait artists of the late baroque period - till he went out of his mind, and became clairvoyant. He then did his series of character busts pulling grimaces that express a horror of an intensity never witnessed before - as if the artist were out to take revenge upon society. He died in an asylum, a broken man.
Gottfried Helnwein, One Man Show, Museum of Modern Art, Otaru, 1996
1996 Helnwein exhibition catalogue Andreas Mäckler