"The Darker Side of Playland" Childhood Imagery from the Logan Collection, exhibition catalogue – September 1, 2000
San Francisco Museum of Modern Art, 2000
THE DARKER SIDE OF PLAYLAND
(excerpt) Other works in the exhibition present the dark side of cartoon characters. The prevailing narrative structure of many cartoons is a cycle of one's character's unrelenting attacks on another. Yet the violence of these scenarios is subverted and humor achieved by the lack of any permanent injury to the victim and the gleeful nonchalance of the adversary even during the most aggressive assault. Static representations of wounded or menacing cartoon characters can expose the violence and eliminate the humorous punch line. In Gottfried Helnwein's painting Mickey (plate 24), Mickey Mouse's physical features, which usually contribute to his appeal become a thin veneer of looming attack. Blown up to a monster scale and rendered in an austere gray palette, Mickey's smile is deceptive.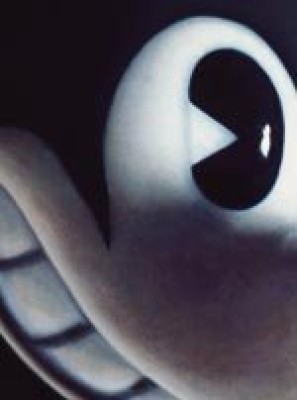 In Machine Gunned Minnie (plate 21), Joyce Pensato inflicts physical damage on the image of Minnie Mouse by shooting the paper with bullets. But Minnie is not as resilient as her exuberant gesture would indicate her charcoal outline seems to fade into the gray background, as if she were slowly disappearing. Furthermore, as works on paper, it has an inherently ephemeral existence. But even Porky Pig, painted in the more durable medium of enamel on canvas (plate 22), is merely a ghostly black silhouette dripping down the white background, as if it were melting or bleeding.
William Cotton's painting Mortimer (plate 23), is more psychologically than viscerally disturbing. This painting is part of a group of works Cotton did based on things he found at flea markets. The artist's working title for Mortimer was Ugly Mouse, a description of the stuffed animal dominating the composition. With its missing eye, tattered für, and pants fallen down, the enlarged Mouse has a haunting presence. The final title refers to the figure in the lower left, Mortimer Snerd, the dummy made famous in the 1940s by the ventriloqist-comedian Edgar Bergen. An inanimate figure equipped with a human voice and gestures can be frightening or eerie. Adding an autobiographical note, the artist inserted the hoola hoop that appears at the lower right as a memory of a childhood nightmare.
Mice are ubiquitous in child imagery, perhaps because of the commercial success and global popularity of Mickey Mouse or perhaps because of their disproportionate physical features. The Japanese artist Takashi Murakami has developed his own cartoon character alter ego that looks like a mouse. Known as Mr. DOB, the figure vaguely resembles a pygmy doll that the artist once saw in a toy store, but more recognizably his enlarge black ears, white face, and gloved paws make him look like a cousin of Mickey Mouse. However, representations of DOB spell out his name across his head the D and B are written on his ears, and the circle of his face inserts an O in between so as not to confuse this character with the more famous rodent.
Excerpt from the cataglogue by Heather Whitmore Jain, Curatorial Associate "The Darker Side of Playland" Childhood Imagery from the Logan Collection SAN FRANCISCO MUSEUM OF MODERN ART September 1st - January 2nd, 2001
"The Darker Side of Playland" Childhood Imagery from the Logan Collection
01.Sep.2000 San Francisco Museum of Modern Art Heather Whitmore Jain