The Wow Report – December 6, 2005
Manson and Von Teese wed at Gottdried Helnwein's castle in Ireland on Saturday.
The Bride Wore Purple
On Saturday, after five solid years together and a full year's engagement (with a 7-carat antique European round-cut diamond ring to prove it), Marilyn Manson and Dita von Teese got married in front of 60 celebrity friends, including the likes of Lisa Marie Presley and CSI's Eric Szmanda. The event occurred over several days in and around a castle in County Tipperary, Ireland. Castle Gurteen, home of the couple's friend, Austrian artist Gottfried Helnwein, was said to have been lit by the great-grandchildren of Hitler's architect, Albert Speers. And Manson had promised "children in makeup, dressed in these wonderful 19th century outfits, serving absinthe frappe."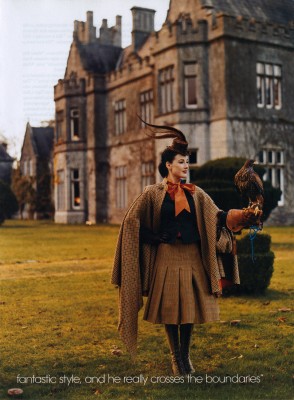 The semitraditional, nonreligious ceremony, during which Manson and von Teese exchanged personal vows, was performed by Chilean film director Alejandro Jodorowsky, who had been working on a movie with Manson. The groom wore a velvet-trimmed black silk taffeta wedding tux designed by John Galliano and a Stephen Jones hat. The bride's ensemble included a purple silk taffeta gown by Vivienne Westwood, a train, petticoats, a Stephen Jones tricorn hat, and a Mr Pearl corset (well, she's a burlesque dancer by trade). Marilyn couldn't decide which of two friends should be his best man, so he added a "worst man" to accommodate the other. After the wedding, guests were said to have enjoyed archery, skeet-shooting, and falconry. "Everyone expected Manson and Dita to have some sort of crazy vampire wedding, but anyone who knows the couple knew it would be the classy, stylish affair that it was," a guest at the wedding told People.
Now they can start a Manson family.
http://worldofwonder.net/archives/celebrity.wow