Lentos Museum of Modern Art Linz – May 1, 2006
Opening 9 March 2006, Exhibition 10 March - 5 June 2006
Gottfried Helnwein: Face It
Gottfried Helnwein: Face It
Opening 9 March 2006, Exhibition 10 March - 5 June 2006
In Spring 2006 an extensive show of work by Gottfried Helnwein is presented in the large exhibition hall of the Lentos Museum. Lentos thus organizes the artist's first museum show in Austria since he left the land of his birth in the mid-1980s Helnwein was born in Vienna in 1948. After spending years in Germany, Helnwein now lives in Los Angeles and Ireland.
In Austria Helnwein is still remembered as a "provocateur" and "shock artist", as which he established himself a quarter of a century ago. The name Helnwein then stood for hyperreal depictions of wounded and deformed people, often children, and for citations from pictures from popular culture,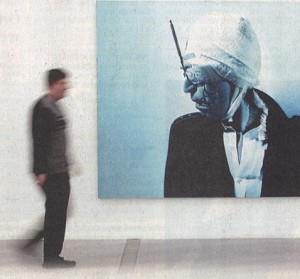 In light of the substantial further development of his work in conjunction with new image treatments and the use of new media (digital photography, video), it is time for a comprehensive view of this oeuvre today. This is interesting, not least of all, in the context of a boom in new figurative painting and in light of the largely predominant references to media images and popular culture in more recent painting. An updated view of Helnwein's subject matter and his mode of production reveals an artist devoted primarily to moral, emancipatory motifs, whose place within so-called "political" art is only now recognizable to its full extent.
The exhibition presents around forty works from every phase of his creativity since the early 1970s. It is both a retrospective and a thematic show at the same time: the selection follows the subject of the human face as a leitmotif throughout Helnwein's oeuvre. This includes not only painting and drawing, but also digital photography, in part with a painterly treatment.
Opening 9 March 2006, Exhibition 10 March - 5 June 2006
The exhibition is realized with kind support from the Linz AG.