www.madblast.com – October 9, 2002
"The Rules of Attraction", interview, 2002
BREAKING THE 'RULES OF ATTRACTION' (RATED R)
To help promote their controversial film, "Rules of Attraction", writer/director Roger Avary and producer Greg Shapiro contracted artist Gottfried Helnwein to create an image for the poster. Helnwein chose to recreate a scene where a girl commits suicide and Lauren (Shannyn Sossamon) discovers her body. In the studio shot, it almost looks like Sossamon is kissing the dead girl.
Since the suicide is a wrist slitting in the bathtub, the girl is nude and therefore the shot couldn't be used for wide release posters. The one you see displayed in theaters features stuffed animals in compromising positions, but Helnwein's poster did make it onto the soundtrack CD and other outlets. Helnwein himself spoke with Madblast about his work.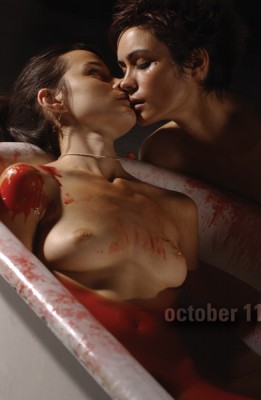 Madblast:
Why is Shannyn kissing the corpse?
Gottfried Helnwein:
Because that's what developed in the shooting. When Roger asked me if I could do a picture for the poster, I had to think about it. I thought this was a remarkable film that really impressed me, but it's one of those films where it would be hard to get a single image that would represent the film. Sometimes it's easy. Sometimes you know exactly which image would be the essence of the whole thing, but in this film, it was hard. There were two scenes that I considered. One was the rape scene and the other one was the suicide in the bathtub. But visually, I always remembered the scene when she committed suicide in this bathtub. I thought that was an amazing suicide scene, how she did it. What impressed me was when Shannyn entered the room - how she reacted. It was not how you would expect somebody in a movie to react when she sees that someone has committed suicide. It was disturbing, and this relationship between the dead girl and Shannyn was the same thing I played with in the studio. That was the outcome.
MB:
Why did the suicide scene ultimately grab you more than the rape scene or other scenes?
Gottfried Helnwein:
Because of the way it was done. I've never seen something like that. Everything about it was different than you'd expect. I've seen suicide scenes before, but there was no emotion in the face when she cut her wrists. Everything was strange. It was understated and it was extremely intense. I was impressed, and how Shannyn reacted was amazing for me. She didn't scream, she didn't do the usual thing - that touched me.
MB:
What would you have shot if you?d chosen the rape scene?
Gottfried Helnwein:
We started with that actually when I did the first shoot with Shannyn, but I saw it wouldn't work because they wouldn't even print the picture.
MB:
But there?s nudity in the suicide, so no one can print that either. The rape scene didn?t have any nudity.
Gottfried Helnwein:
That's right, but when I did the session [on the rape scene], I decided it's not what I want. Suddenly, I had the idea to do the suicide, and when we did it, it was perfect. We didn't talk much. It was dark except the light on the bathtub, and I took many shots of the two girls - they're all great and should be shown together. Even when I look at it, I forget that I produced it. I thought it said something moving and touching, the strange relationship between these two girl.
MB:
Why did you decide it should be a scene from the movie and not some other construction?
Gottfried Helnwein:
Because the idea was to create an image that would be the image for the poster of the movie, so it had to have a relationship with the film.
MB:
But again, they can?t use a poster with nudity.
Gottfried Helnwein:
Yeah, at least not as a billboard. I was not aware that nudity is such a problem in America.
MB:
You had to know that we don?t publish nude photos in general media.
Gottfried Helnwein:
No, I'm always naïve when I do a picture, because for me it's a very different, understated image. It's hard to grasp that people would have a problem with that.
MB:
Didn?t someone at the studio tell you?
Gottfried Helnwein:
The studio people weren?t involved. The only people I was in contact with were Roger and Greg. I?m not a commercial artist. I?ve been in contact with Roger over e-mail for many years because he likes my artwork. He asked me as an artist to do an artwork. I?m not used to being restricted or being careful.
MB:
What is your background as an artist?
Gottfried Helnwein:
I did my first painting in Autumn of '69 in Vienna, after which I started at the University of Fine Arts in Vienna. It's the same school that rejected Hitler twice. That's where I worked for five years. Then I worked in Austria, then in Germany and now I live in Ireland and L.A.
MB:
How did you get involved in movie work?
Gottfried Helnwein:
In this case through Roger, who wrote me years ago when I still lived in Germany and seemed very excited about my painting "Epiphany III" - he was actually interested in buying it. We've been in contact ever since. It seems also that the type of work I do always attracts writers and film people. I think my work has a certain narrative quality that reminds people of films. Some of my paintings or photographs look like a still from a movie - a frozen second that goes on. So, I guess that's why many people from the film business seem to be interested in my work.
09.Oct.2002 www.madblast.com Fred Topel